$14.00 net wt 0.85 fl. oz.
In this corner weighing in at weightless shine is Moroccan Oil! ha ha. Moroccan Oil Treatment is a light weight formula that is absorbed into the hair and is said is instant and leaves no residue. It claims to have the ability to restore over-processed and damaged hair and dry, wet hair faster.
I am in love with this product! It restored my hair's shine, helped control my frizz from bleaching it and helps to detaingle my hair when applied to slightly damp hair. I put it to the test with my blow dryer and it took my dry time from 21 mins to 12 mins. Moroccan oil smells like Cocoa butter too Yum! Only a nickel sized amount was needed to cover my hair, which stops 3" below the bottom of my shoulder blade. I worked the Oil through my hair by rubbing my hands together then applied to my hair starting half way down combing my hands through my hair down to the tips then up to the roots. I suggest a full bristle brush for a couple strokes afterwards so you can help spread the oil evenly through your hair.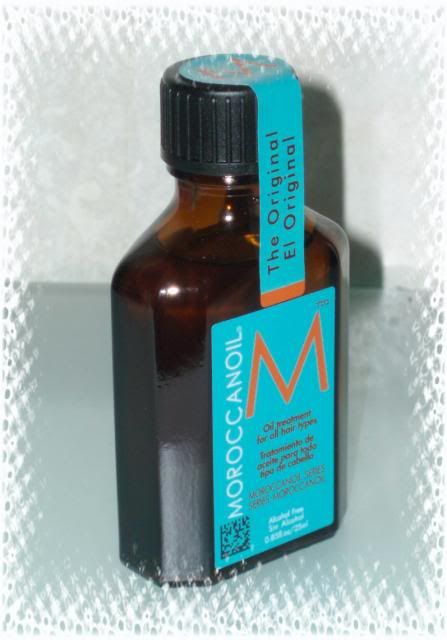 This oil isn't just for people with thick hair. Many women with thin hair (like me) tend to stay away from oil hair products since they can weigh the hair down and look very greasy and dirty, but this product is usable for women with fine hair. Very little product goes a long way so there isn't much oil in your hair to weight it down. For people that think this is too heavy for their hair Moroccanoil has come out with a lighter formula as well, but this one suits me fine.
I find my hair is easier to manage using Moroccan Oil after I get out of the shower. My hair isn't as elastic and sticky when blow drying which helps to minimize breakage. My hair is smoother after straightening with an iron as opposed to straightening without the oil and having flyaways. The best part about this oil is with everything it does, it does it all without leaving a residue or weighing my hair down. Even after three days of using hot tools and no washing. (But I wouldn't go past three days without washing) The down side of the oil is if you are prone to breakouts try and keep your hair out of your face, it can be a little rough on delicate skin by clogging pores.
Along with all of these wonderful thing it does, it also says you can use it before dying/ bleaching your hair to minimize damage. I haven't tried it yet but I do plan to the next time I bleach my hair. It also works well to moisturize my legs without stickiness. I just wipe my hands off on my legs when I'm done applying to my hair.

Thanks for logging on and oiling your mind =~)
Jamie